From Roof repairs
to
new roof installations, 
We've got central Arkansas covered.
Get a Free Estimate Now!
Fill out the form below to schedule an all-inclusive inspection and quote on your roofing or remodeling project. 
**Disclaimer: Your personal information is protected. We will never sell your information to a third party.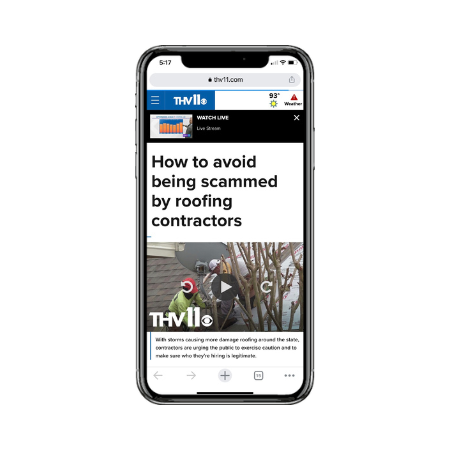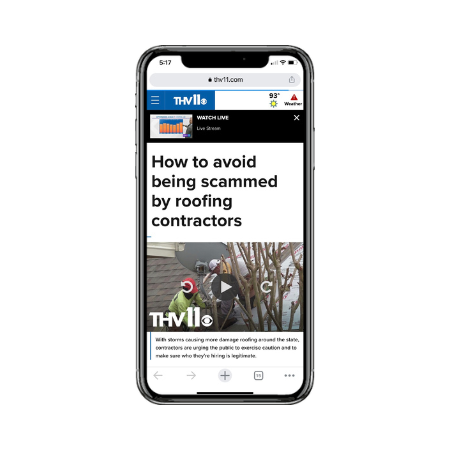 Seen on THV11
Avoid being scammed by roofing companies
Seen in Arkansas Democrat Gazette
Scroll down to ROOFERS CAUTION HOMEOWNERS
With over 30 years of experience in the field, Accountable Roofing offers fast, reliable service and high-quality results! 
Now Offering Financing options
Learn more about how we can help by clicking the button below.
licensed, bonded, and insured
AR Sate ID# 51822
AR State Lic# 0430440324
We Have a Dedicated Repair Crew to Fix Your Roof Fast
We offer a 10-Year Craftsmanship Guarantee to Protect Your Investment
We Help You Navigate Your Insurance Process to Make it Easy
Accountable Roofing LLC offers more than roof repairs and replacements – we offer peace of mind. With a ten-year craftsmanship guarantee, we go above and beyond to ensure that you are 100% satisfied with your roofing and remodeling results. 
Accountable roofing means we are accountable to you
Your roof protects more than your house – it protects your home and everyone in it. At Accountable Roofing, we build every roof as if it were our own family's home. And with over 30 years of experience in the field, we're confident you'll be 100% satisfied with the results. 
From minor roof repairs and inspections to complete roof replacements, Accountable Roofing has you covered. We offer high-quality craftsmanship and cutting-edge technology for residential roofing and commercial roofing alike. From the initial inspection to assisting with insurance claims to construction, our knowledgeable and professional staff is here to guide you through the roofing process and quickly and easily. 
See what your neighbors are saying